Lovejoy Schools
Lovejoy ISD Hometown Community Newspaper
sponsored and supported by Lovejoy ISD Parents and Community members who believe in integrity, ethics and accountability.
More about this site...

Lovejoy ISD Maxes Out Tax Rate
Highest Tax Rate Allowed in Texas 2016

Lovejoy ISD Facing Financial Crisis 2017
Despite Promise to Taxpayers that 11 Cent Tax Rate Hike Would Prevent This. 2016
"If our district were to cut costs to cover what the legislature has taken away, it would require us to lay off staff...We would have to eliminate almost 1/3 of our teaching staff to reach a savings of $6 Million." - LISD Superintendent Ted Moore 5/30/17 Email Express
The district says there will be no layoffs.

Parents to pay $350 bus service fees;
$250-$350 sport & fine arts fees. June 2017

Dallas Morning News Watchdog: Superintendent shows how school districts crush critics


Read here
How a school district uses its power to tilt a tax-increase election in its favor


Read here
School Performance 2015-2016
Housing cost vs. performance
TEA District Report Cards
Improvement across the board
Except for Hart Elementary (0 distinguished) and LHS (5 distinguished) stayed the same as last year

$$$ Puster Elementary-Fairview


$$ Hart Elementary-Lucas (0 distinctions)
$ Lovejoy Elementary-Allen





Sloan Creek 5/6th






Willow Springs 7/8th






Lovejoy High School







School Performance 2014-2015
Housing cost vs. performance
TEA District Overview
Math is weak in all grades up to Secondary School
No distinctions in any Lovejoy Elementary school
$$$ Puster Elementary-Fairview




(0/4 distinctions)
$$ Hart Elementary-Lucas




(0/4 distinctions)
$ Lovejoy Elementary-Allen




(0/4 distinctions)

Sloan Creek 5/6th





(4/5 distinctions)
Willow Springs 7/8th







(4/7 distinctions)
Lovejoy High School







(5/7 distinctions)

School Performance 2013-2014
Housing cost
$$$ Puster Elementary-Fairview





(Zero Distinctions)
$$ Hart Elementary-Lucas





(1/5 distinction)
$ Lovejoy Elementary-Allen





(4/5 distinctions)

Sloan Creek 5/6th






(5/6 distinctions)
Willow Springs 7/8th







(4/7 distinctions)
Lovejoy High School






(6/6 distinctions)

2016 National Merit Semifinalists

2014-2015 Math SAT Scores for DFW area Schools
2014-2015 English and Writing SAT Scores for Dallas Ft. Worth area Schools
2014-2015 SAT Scores for Dallas Ft. Worth area Schools
Lovejoy Receives Failing Transparency Grade
Dallas Morning News Transparency 2015 report card
Lovejoy ISD - D
Request best practices -C
Request compliance - F
Web customer service - C
Online Meeting Notices - F
City of Lucas Transparency Grade - A
Town of Fairview Transparency Grade - B
LISD Makes Federal Case Out of Illegal Policy
According to documents filed in Federal court Ted Moore, LISD superintendent, directed staff to remove Republican candidate's political signs from Lovejoy ISD polling places during the Nov 4 2014 Election. The signs were legally placed and removing them is a violation of Section 61.003, Election Code and HB 259.
LISD moved the case to Federal Court from Collin County Courts.
Case filings can be reviewed at links below:
Collin County Court
Collin County Court filing
Federal Court Doc 2
Federal Court Doc 3

2015 - Case kicked out of Federal court and is back in Colln County Courts
---
LISD School Board member claims to not know about the LISD athletic director's family horse grazing on taxpayer funded property. (Heritage Ranch Candidate Forum 4/22/14)
A Tale of Two Gates
Taxpayer locked out but AD's family horse has free rein
---
"Citizens for Lovejoy" Aren't Citizens!
Political Action Committee FOR Bond Passage - Citizens for Lovejoy - was primarily funded by non-citizen special interests who stood to profit from bond passage according to PAC financial documents:
Pogue Construction - Gave $1,500
Operates out of McKinney, TX
Worked on LISD Projects, including
• Sloan Creek Middle
• Spurgin Elementary
• Hart Elementary
• Lovejoy High School Addition
• Puster Elementary
http://www.pogueconstruction.com/portfolio_gallery.asp?id=1&sid=20&pid=188
PBK Inc. - Gave $2,500
Architect Firm out of Houston
Worked on projects for LISD.
"...The Board hired PBK Architects and Associates for
architectural development and design services for the future projects."
http://www.lovejoyisd.net/Uploads/34/misc/Highlights9.pdf
Lovejoy $76 Million Bond Initiative Failed
1822 AGAINST
1801 FOR
This was a huge turnout of voters. It is good to see people exercising their right to vote.
It's OK to Vote NO
www.ok2voteno.com

Read more about the bond package here...
Lovejoy School Board Meeting: 2013 Bond Package

There is no Exemplary Rating Anymore
Lovejoy ISD campuses achieved Met Standard rating
along with 92% of Texas districts

Not one LISD campus earned
ALL ACADEMIC DISTINCTION
It's time for leadership change
AUSTIN - Under the state accountability system, campuses in Texas that achieve the rating of Met Standard can also earn distinction designations in the following three areas:
Top 25 Percent Student Progress
Academic Achievement in Reading/English language arts
Academic Achievement in Mathematics
Of the approximately 3,600 campuses across Texas that achieved the Met Standard rating under the state's new accountability system and earned at least one designation, 759 schools earned designations in all three potential areas.
LINK

DFW districts and number of campuses that received ALL ACADEMIC DISTINCTION
Given the amount of effort the school board puts into their board priorities, the below academic results should not be surprising.
2013-2104 Lovejoy School Board Priorities are identical to the Board Priorities for 2012-2013. The School Board President has no vision or leadership direction other than these goals as demonstrated on her campaign site.
District - Number of campuses earning All Academic Achievement
Lovejoy ISD - 0
Allen ISD - 4
Carroll ISD - 4
Carrollton-Farmers Branch - 9
Frisco - 7
Highland Park - 2
Lewisville - 4
McKinney - 5
Plano - 16
Richardson - 16
Wylie - 1

All LISD Elementary campuses except Puster Elementary earned top 25% Progress, along with Sloan Creek MS.
LHS campus stands out as lone recipient of distinction in ELA.(English Language Arts)
All campuses but Hart Elementary received Math distinction.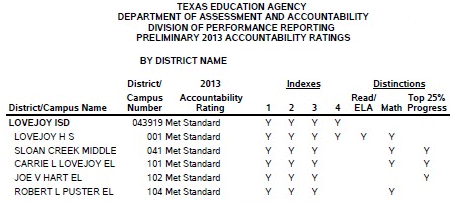 ---
---
May 2013 School Board Election

Brenda Rizos Campaign website
$100 Reward
for First Finder of any Significant Falsehood on this Site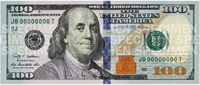 (this reward does not include documents originating from third party sources or the documented falsehoods originating from LISD administration; outdated material; misspellings; or posts on the OPINION forum
Send documentation that proves falsehood to SiteAdmin-at-lovejoyschools.com )
Lovejoy ISD may be the FIRST school district to post credit card transactions in addition to check registers. Congratulations LISD! Heading in the right direction!
Lovejoy ISD 4th Grader Writes,
"Please Help Me Get Books for My School Classes"
Read here...
Family moved out of Lovejoy ISD

Tax Rate 2015 $1.56

TX Comptroller FAST Ratings
The FAST rating shows how efficient and effective districts are.
---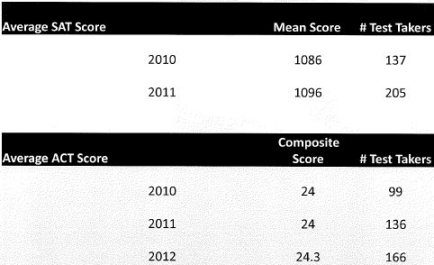 Compare LOVEJOY SAT Scores to other schools....
below
---
March 2013
LISD Forces Veteran's Widow Off Property and Makes Room for Athletic Director's Father-In-Law's Horse to Graze.
LISD abused eminent domain to take this woman's home from her, then forced her off her property Nov 2010 because, per the LISD press release, "the District needs to proceed with development activities". Almost two years later the athletic director's father-in-law's horses graze the property. Read more about this travesty below...
Nov 2010
In LISD the school can take your land, just because they can - Don't need it...Just want it.
LISD School Board
Rich Hickman, Mike Guilbeau, Lisa Ellrich, Lynette McDonald, Elena Westbrook, Ann Casey, Julie James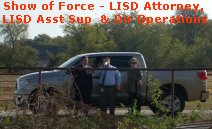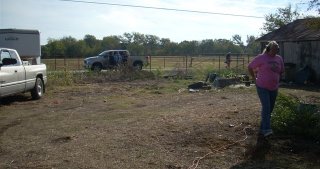 May 5, 2012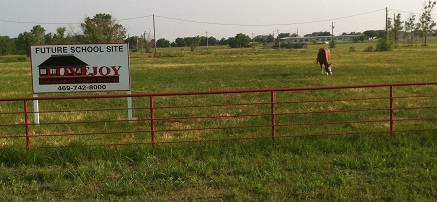 April 2012

Nov 2011
ANOTHER Lovejoy employee sues LISD....
Former Lovejoy coach sues district
LISD Team Chiropractor arrested for molesting two young girls..
McKinney chiropractor jailed as more victims come forward.
---
SAT scores link 2011-2012 Class of 2011

| | |
| --- | --- |
| SCHOOL | SAT |
| Highland Park | 1215 |
| Plano Senior | 1157 |
| Plano West | 1156 |
| Carroll | 1155 |
| Coppell | 1146 |
| Flower Mound | 1118 |
| JJ Pearce | 1117 |
| Plano East | 1114 |
| Argyle | 1097 |
| Allen | 1096 |
| Lovejoy | 1096 |
| Grapevine Colleyville | 1096 |

SAT scores Link
ACT Scores Link(data is one year older)

SCHOOL
SAT (2009-10)
ACT (2008-09)
Highland Park
1203
26.1
Plano West
1183
25.2
Plano Senior
1180
25.2
Coppell
1149
24.2
Carroll/Southlake
1134
24.5
Grapevine/Colleyville
1098
23.8
Argyle
1093
23.8
Allen
1089
23.5
Lovejoy
1087
24

(2009-10)

Lewisville
1087
22.3
District/
Campus

Students
in
Grades
11-12
Tested Number
Tested
Percent
Examinees
at or above criterion
Number
Examinees
at or above criterion
Percent
Exams
Exams
at or above criterion
Number
Exams
at or above
criterion Percent

PLANO
SR HS

2,424

1,073

44.3

939

87.5

2,768

2,359

85.2

PLANO WEST SENIOR HS

1,801

928

51.5

804

86.6

2,685

2,237

83.3

CARROLL
SR HS

1,130

453

40.1

387

85.4

1,066

886

83.1

FRISCO
LIBERTY HS

829

248

29.9

211

85.1

617

496

80.4

COPPELL H S

1,272

600

47.2

495

82.5

1,412

1,097

77.7

FRISCO
WAKELAND

893

250

28.0

193

77.2

522

400

76.6

COLLEYVILLE HERITAGE

1,099

582

53.0

463

79.6

1,671

1,268

75.9

FRISCO
CENTENNIAL

680

235

34.6

167

71.1

492

347

70.5

FRISCO HS

572

170

29.7

127

74.7

351

247

70.4

PLANO EAST
SR HS

2,521

893

35.4

686

76.8

2,363

1,630

69.0

ARGYLE

267

77

28.8

60

77.9

182

121

66.5

MCKINNEY NORTH

566

238

42.0

158

66.4

504

329

65.3

GRAPEVINE

917

464

50.6

332

71.6

1,338

867

64.8

MCKINNEY
BOYD

1,252

583

46.6

387

66.4

1,259

778

61.8

HIGHLAND PARK

894

757

84.7

552

72.9

2,441

1,488

61.0

ALLEN H S

2,161

722

33.4

504

69.8

1,525

902

59.1

WYLIE

1,252

256

20.4

162

63.3

483

281

58.2

MCKINNEY HS

804

411

51.1

243

59.1

1,016

581

57.2

LOVEJOY HS

391

212

54.2

129

60.8

488

246

50.4
CLEVER DECEPTION CONCERNING LISD PERFORMANCE 2011
"Lovejoy ISD is setting the standard for excellence in public education."
-Matt Gournay, Lovejoy ISD School Trustee
Is Lovejoy's approach paying off? Undoubtedly. - Julie James & Matt Gournay
Julie James and Matt Gournay, then LISD School Board candidates published the below graph which fooled the public giving the illusion of rising performance in the district.... See flyer here... James and Gournay are on the Lovejoy School Board now.

Deceptive Graph: (gives appearance of improvement - look closely)
This graphs starting at 11th (left) and goes up to 3rd (right)

Great to Bad :
This is the same chart but shows Lovejoy children's performance starts out great in 3rd grade (left) and falls rapidly to 11th ( right). Americans read from left to right.
Lovejoy ISD drops 48 points almost to state levels. Texas ranks at the bottom of the nation on SAT scores.
Other districts commended scores decline as well, but the fall is not as great as seen at Lovejoy ISD.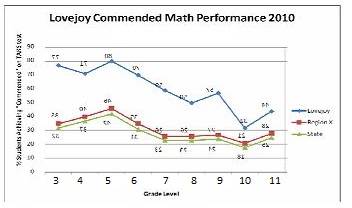 ---
Math and Science Commended Performance Graphs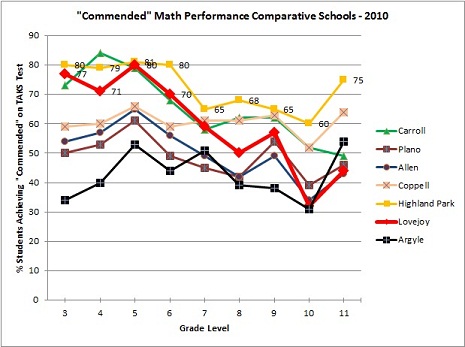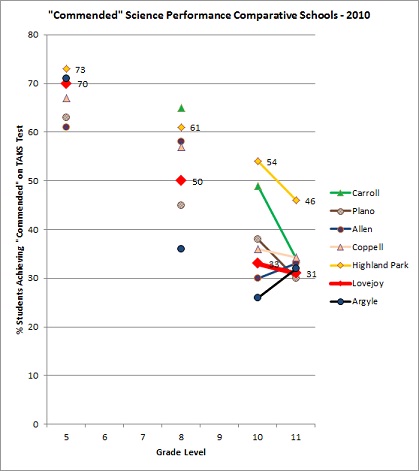 ---
LOVEJOY ISD COMPARED TO OTHER COLLIN COUNTY DISTRICTS
Click below and choose district comparison, then enter Collin County to see a comparison.
https://ourcpa.cpa.state.tx.us/fast/rpttool/districtCriteria.do

Almost HALF of Collin County districts are rated EXEMPLARY.
(6 out of 14)

Lovejoy ISD is the ONLY Collin County district with a HIGH spending index.

Lovejoy ISD has more dollars per student than any other school district in Collin County and Lovejoy ISD spends less on instruction than all but 4. (out of 14 total schools)

Of all Collin County Districts, Lovejoy ISD has the lowest At Risk student population, and the lowest, (by a large gap), of ESL students (English as Second Language).
Lovejoy ISD has lowest Economically Disadvantaged population at 2.7%!
The next lowest is Frisco at 12.8% and the highest is 56.5% at Princeton ISD.
Lovejoy ISD has the EASIEST and CHEAPEST population of kids to educate.

Lovejoy ISD's Central Admin average salary is the HIGHEST in Collin County.
---
IS THIS PROFESSIONAL BEHAVIOR?
(see also "Fair and Balanced")
Instead of addressing fiscal and academic issues, the Lovejoy administration and school board used the TASB/TASA statewide convention to lash out at those attempting to to rein in frivolous district spending. LISD superintendent and school board state those involved in the democratic process and citizen civic activity are criminals. This trip cost taxpayers over $4000.
Texas taxpayers fund TASB/TASA through dues paid by their districts. TASB and TASA both serve as lobbyists, often to raise taxpayer taxes.
http://www.tasa.tasb.org/documents/2010_conv_program.pdf (page 37)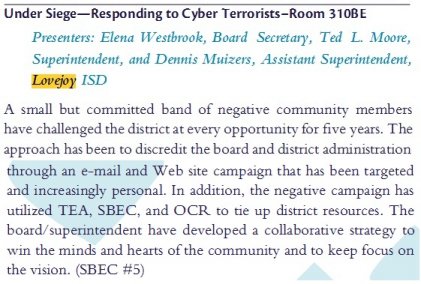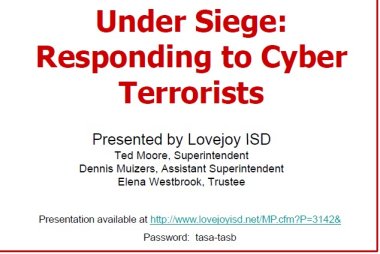 LINK to presentation on Lovejoy ISD's site
Copy of presentation

Lovejoy ISD historically has provided limited testing and services for children with special needs and learning differences. Parents advocating for their children accused of a crime (cyber terrorism ) by Lovejoy ISD administration...Read more here...
---
Ted Moore's "PRE-AP For ALL" Curriculum does not improve SAT scores
Lovejoy ISD's Pre-AP For ALL curriculum does not yield better results than surrounding districts, and lower results than demographically equivalent districts that offer three tracks of classes, regular track classes; Pre-AP; and GT tracks.

Avg SAT scores:
535 reading
552 math
525 writing
1087 (SAT score without writing)

Avg ACT score: 24
---
EMINENT DOMAIN in LOVEJOY ISD
Four people can take your home without real need and there is nothing you can do to stop them.....It's already happened in Lovejoy ISD.
The majority of the Lovejoy School board (4 votes - Rich Hickman, Mike Guilbeau, Lynette McDonald, Lisa Ellrich) voted to take the home of Ms Gibson even though their hired architect told the school board that they did not need to take her land in order to build an elementary on the property next door.
Rick Hickman, Mike Guilbeau, Ann Casey, Elena Westbrook, Julie James & Lynette McDonald, Chad Collins ordered a Vietnam vet's widow out of her home and off her property two days before Veterans Day 2010.
LISD demographer, Dr. Pat Gusman, stated at the Dec 14th, 2010 school board meeting that LISD will not need another elementary school until 2018, yet LISD forced this woman off of her property and bulldozed everything three months BEFORE her Feb 14, 2011 jury trail. Ms. Gibson's jury trial was her first and only opportunity to fight back against this injustice of having her home taken from her.
Read more details about LISD suspicious abuse eminent domain power .......
Read Texas Farm Bureau article on Lovejoy ISD Eminent Domain Abuse.....
A Fight for Stronger Property Rights
---
LOVEJOY ISD now to become a sewer provider?
How many school districts are in the business of providing sewer? Aren't public schools about educating kids, not sewer and development?

Stop Sewer. Flush Moore! Lovejoy ISD allegedly violates Texas Open Meetings Act in attempt to defy wishes of voters! Read more...
Moore Loop - bringing sewer where it's not wanted! (except by developers)
---
LAWSUITS BROUGHT BY Lovejoy ISD EMPLOYEES!
First Lovejoy ISD lost and
had to settle with the "Teacher of the Year", who was wrongfully terminated by the district
...now this....
Beloved Band director sues LISD for racial discrimination and harassment and resigns!
| | |
| --- | --- |
| | We love kids, all kinds of kids. We are not selling real estate, are not employed by Lovejoy ISD or are in any way profiting from Lovejoy schools. We strive to provide documented information to keep parents informed on important issues the official web site will not publish. Parents can do a "reality check" here. Parents can share their OPINIONS on the community forum. |
---
Lovejoy ISD has almost "secret election", only notifying those they want to vote in a 2-cent-tax-increase election and the strategy works!.......

Lovejoy ISD Tax Rate currently at $1.535 and going up? To $1.56?
Your tax bill will go up next year to cover bonds issued unless the real estate market turns around rapidly and many new homes are built -
the LISD board can raise taxes 2 1/2 cents without voter approval
Current annual tax bill paid by homeowners:
Lovejoy ISD Resident Property Tax Bill Breakout
| | | | | | | | |
| --- | --- | --- | --- | --- | --- | --- | --- |
| | City | County | CCCC | Lovejoy ISD | Total | % Tax bill for only LJ ISD | % Tax Bill City, County College Combined |
| Allen | .555 | .2425 | .0863 | 1.535 | $2.4188 | 64% | 36% |
| Lucas | .374177 | .2425 | .0863 | 1.535 | $2.237977 | 69% | 31% |
| Fairview | .365 | .2425 | .0863 | 1.535 | $2.2288 | 69% | 31% |
| Seis Lagos | .449183 | .2425 | .0863 | 1.535 | $2.312983 | 66% | 34% |
Home value

Lovejoy ISD
Tax Bill

$300,000


$4,605
$400,000

$9,210
$700,000

$10,745
$800,000
$12,280
$900,000
$13,815
$1,000,000
$15,135
---
Lovejoy ISD has refused to post credit card statements online, despite numerous requests, and have refused to put this request on the school board agenda for public discussion.
Other local governing entities, like the City of Lucas, TX include check registers AND detailed credit card information online.
Lovejoy ISD spent $52,000 on travel in ONE month....(Oct 2008), Lovejoy ISD pays for three or four law firms(2008- $131,753.29) ,
has given about $1 Million of business to now ex-school board member,
2008- $234,000 Meals & Travel
Now they want to raise taxes!
---
LISD SUPERINTENDENT PUTS ON UNPROFESSIONAL COMMUNITY PRESENTATION... see below
July 2008
Mr. Moore's calls a secret "invitation only" meeting of "community leaders" and gives below presentation.
Without a doubt the most unprofessional thing I have seen in my entire life - Reader's comment

What do outsiders think about Lovejoy schools?
Read Collin County Observer Article:
Lovejoy ISD- Tales from the Dark Side

Lovejoy ISD superintendent called a secret invitation-only meeting and gave an hour and half presentation attacking this web site and mothers who are advocating for children and asking for financial accountability. Three school board members attended. See Meeting Presentation, Rebuttal and Rhetorical Analysis..

One of the attending school board members pulled her child from school and left town with her family, leaving her unsold house in the middle of the school year long before her school board term was up. No explanation was given.

July 2008
Unfortunate timing for Mr. Moore's comparison just as the Enquirer breaks the John Edwards affair story while mainstream media turns a blind eye.


John Edward's paternity admission vindicates National Enquirer, its editor says
---
LOVEJOY ISD SUPERINTENDENT CLAIMS TEA INVESTIGATION CLEARED HIM, BUT TEA SHOWS NO DOCUMENT WHICH STATES THAT MR. MOORE WAS CLEARED.
LOVEJOY ISD fought to keep the entire investigation report from the community despite the claim that Mr. Moore was cleared.
| | |
| --- | --- |
| Lovejoy ISD School Board nominated Lovejoy Superintendent, Ted Moore for TASB Superintendent of the year, despite knowledge of serious allegations against Mr. Moore, that he himself inadvertently made public. Lovejoy had Ted Moore's employee investigate the allegations against her boss, rather than bring in an independent investigator. | |
CONCOCTED PROSECUTIONS

According to Mr. Moore, in his "secret meeting" presentation at Lovejoy High School, the allegations against Mr. Moore came from his family. While Lovejoy ISD School Board would not use their authority to call for an independent investigation of the matter, they did use taxpayer dollars to hire legal assistance in an attempt to frame a parent, fire the Lovejoy ISD Teacher of the Year, and ban both from campus on false charges of defaming the superintendent. Both the parent and teacher were later cleared of these charges, and Lovejoy ISD had to pay a settlement to the teacher. The parent is cleared, the teacher is cleared, but Mr. Moore remains on campus.


(Read teacher statement and LISTEN to Lovejoy ISD's attorney falsely accuse a parent of defaming the superintendent)
Because the Lovejoy school board did not call for an independent investigation into serious allegations, a concerned community member asked the TEA to investigate the validity of claims made in emails between Mr. Moore's stepson and ex-wife which outline concerning allegations about Mr. Moore.
Lovejoy School Board Trustees, in a highly unusual vote, approved the payment for legal counsel to fight the TEA (SBEC) independent investigation regarding the allegations against the superintendent.
More bizarre Lovejoy School Board Trustee decisions....
The TEA administratively closed the investigation of Mr. Moore. "The circumstances surrounding the investigation were deemed not to warrant further action by this agency and the case is being administratively closed with no additional action required at this time. If additional information becomes available the case will be reevaluated."

Mr. Moore stated, "Now that I have been cleared by both the Lovejoy ISD Board of Trustees and the Texas Education Agency..." In Mr. Moore's address to the community, he proceeded to name call and threaten legal action against community members he says are "malicious talebearers" and "false accusers". One of the "false accusers", his stepson, still works for Lovejoy ISD.

The community member who asked for the TEA investigation filed a public information request for the TEA investigation report which, according to Mr. Moore "cleared" him.
Lovejoy ISD paid attorney fees to block public access to ALL of the investigation report , "Lovejoy ISD asserts that the requested information should be withheld in its entirety.
It is understandable that Lovejoy ISD would want confidential information redacted from the report. Isn't there even ONE paragraph in the report that does not have confidential information that states that Mr. Moore has been cleared?
Why does Lovejoy ISD not want to the public to have access to the investigation statement that Mr. Moore claims "clears" him?
What exactly does "administratively closed" mean?
---
FAIR and BALANCED BEHAVIOR?
Ted Moore, superintendent Lovejoy ISD, accused others of defaming him, when it appears based on all investigations that Moore exposed himself. Lovejoy's investigation cleared those he accused. Ted Moore's attorney made the statements public while banning a parent from campus and threatening to sue her. After the parent was later cleared, Mr. Moore admitted in a public meeting the source of statements came from his family. Then he posted the "defamatory" statements on the official Lovejoy ISD web site.
Mr. Moore displayed an email about the "defamatory" statement in a public meeting with 75 community leaders. Then he sent out a community Email Express threatening to sue community members if they disseminated the email.
"The attorney has said that if legal action is taken those that have disseminated the defamatory content could risk legal exposure."
Mr. Moore is the only person who has published the "defamatory statements" yet accused everyone else of defamation.
Is this rational behavior? Why does the Lovejoy School Board enable and encourage this sort of behavior?
Lovejoy ISD Public Information Request List
---
Lovejoy school administration was allegedly involved in cover-up of "misappropriation of funds" to Mr. Moore's stepson while in McKinney ISD. Lovejoy ISD hired an attorney and retaliated against the mother who filed the public information request that exposed the misappropriation of funds. The Attorney General ruled against Ted Moore and Dennis Muizers in their attempt to deny a public information request. The Lovejoy School Board voted to use Lovejoy taxpayer dollars for Mr. Muizers legal defense even though this alleged activity occurred BEFORE he was at Lovejoy ISD. Read more here...
---
Lovejoy High School Student chosen for Voices of Collin County
Passion's driving force - Discussion of the effect of passion on success and how the lack of competition can have an adverse effect on passion.
The trouble with texting
Lovejoy superintendent, Ted Moore's response:
---
Lovejoy administration and school board members can't afford to offer the kids REGULAR TRACK CLASSES, but they can afford to stay in luxury hotels ($200+ to $300 a night), enjoy excessive in-town meals, and stay at resorts. Meanwhile the kids are waiting for differentiated class offerings and other academic opportunities.
Is this how taxpayers want their tax dollars used? Credit card listing... (register on to the forum to read) Check register listing...






San Antonio
Photo: Westin Riverwalk $299/night


Photo: Menger Hotel $244/night

Photo: Hotel Icon (Houston)
10/05/06 Hotel Icon (Houston)
Ted Moore - $857.55
3 nights @ $235/night plus misc.
---
WARNING

:
" It is still a violation of LISD policy to defame or disparage Ted Moore, or any administrator at Lovejoy ISD." - Bill Baumbach -Collin County Observer
Lovejoy ISD administration voted to take legal action against mothers in the district who filed for public documents and uncovered disturbing information about administrative activities.
Censorship and intimidation appear to be the motive. One Lovejoy ISD mother was banned from campus on trumped up charges. Another was served with a subpoena demanding "all copies of any text you posted on any web site"

, and

"the identities of each person who has a username on lovejoyschools.com"

, and ALL personal emails concerning the superintendent.
Lovejoy ISD parents - you can bake cookies, and volunteer... but don't ask how your tax dollars are spent, or question Lovejoy ISD administrative decisions! YOU could be next!
This is SO un American! What are they hiding?


- Lovejoy ISD Parent (afraid to be identified)
---
What are the Lovejoy School Board and Administration hiding?....
---
ALL Lovejoy secondary students are forced to take ALL pre-AP/AP core classes.
Families are leaving Lovejoy ISD and Lovejoy High School because their bright students are bored while their average students struggle. Not ALL students are ADVANCED in EVERY subject! More...
Lovejoy Schools 2006-2007 Ratings as compared to demographically equivalent districts...
---
Lovejoy ISD kids get less than half the budget
If kids aren't getting it, where is it going?
Lovejoy schools only spends 49% in classroom 2005-06 - down from 59% the prior year. (Instruction (11,95) 49.42%)
(Your kids get less than half of your tax dollars, the majority of the rest cover administrative salaries. Admin salary link )
Lovejoy superintendent, Mr. (not Dr.) Moore makes $60,000 more than better qualified 3A superintendents with a doctorate.
Total compensation package for Mr. Moore is $196,902 per his contract. (FIRST meeting pdf , contract starting page 8 )
---
Governor Rick Perry's Executive Order RP 47, signed August 2005, requires Texas schools to spend at least 65% of their budgets in the classroom. A Lovejoy taxpayer who has fought for Lovejoy ISD accountability was asked to serve on the Governor's Citizens Task Force on the 65 Percent Rule.
Schools required to put their check register online (year 2010) if spending less than 65% in classroom!
" The districts say they want to increase financial transparency. But posting check registers on the Web also allows them to avoid complying with Gov. Rick Perry's executive order to shift more money to classroom instruction.
Mr. Perry's 2005 order required districts to earmark 65 percent of their funds for instruction and to minimize administrative costs. His office publicized it as a victory for schoolchildren and a step toward accountability."
Dallas Morning News: School districts benefit from check loophole ......
LOVEJOY ISD RESISTED FOR SIX YEARS, BUT TAXPAYERS FINALLY WON LONG BATTLE FOR A DETAILED OPERATIONS BUDGET! After a hard six year fight which began Feb. 2002, Lovejoy ISD taxpayers will finally get to see a detailed operations budget from Lovejoy ISD. Please review how your tax dollars are spent at www.lovejoyisd.net/Uploads/34/misc/2007-2008DetailBudget.pdf
---
No Love No Joy at Lovejoy for Learning Difference kids ...
Learning Difference children at Lovejoy ISD are allocated fewer funds each year. Lovejoy spends less on LD kids than ALL other Collin County Districts.
Lovejoy ISD has successfully reduced special education population, despite total student population increase.
Mr. Helm voted to build the Lovejoy High School (Oct 2002), yet took steps to ensure his child remained in Allen ISD instead of returning with classmates to be the first graduating class at Lovejoy High School.
Living in Lovejoy is a unique experience. Before developers and special interests took control of the school it was a great experience, now the focus appears to "image" rather than "substance", in order to sell million dollar homes in this area.
Living in Lovejoy twenty years ago was a great experience, but not anymore. Growing numbers are leaving the Lovejoy district - either moving , putting their kids in charter schools, or paying for private school.
Living in Lovejoy is an EXPENSIVE proposition due to the high school taxes that may be going higher.
Learning@Lovejoy is a "seminar" put on by Lovejoy administrators.
Lovejoy residents do not know where the earnings for this seminar go.
Learning@Lovejoy is heavily marketed to surrounding school district teachers. A comment from one of the teachers from another district:
"It's funny how I get from time to time postcards from Lovejoy ISD regarding paid teacher training that is being hosted by the district. It almost makes me "feel" that in some way I am a part of the staff even though I do not work for them. Are they trying to "profit" off of those who have made application to the district? ... I also got a similar invitation for the "presentation" that was given last summer about the program Mr. Moore and teachers wanted to put into place for Lovejoy ISD.
I only wish all of you the best as things come to light. ....Seems to me that there is MUCH more going on and that it will adversely affect your district. "